ADDICTIONS COUNSELING RESOURCE GUIDE
Find Books
The Library has many books and other print resources that support the Addictions Counseling program, including the SAMHSA Treatment Improvement Protocol (TIPs) and Technical Assistance Publications (TAPs) series.
To search for books and ebooks, access the Library's catalog.
There, you can search by author, title, subject, keyword, and more.
Suggested Search Terms
Library catalog records offer brief "snapshots" of the Library's books. They are designed to provide basic information and general subject categories. As a result, broader search terms may be more fruitful than narrower ones when searching the catalog. For example, "prescription drug abuse" may offer more relevant results than the more specific search for "oxycodone abuse."
Try searching key subject areas, such as "substance abuse" or "alcoholism." Combining additional terms, such as "treatment" or "disorders" may help narrow your results.
Examples:
"substance abuse treatment"
"alcohol disorders"
"substance abuse and statistics"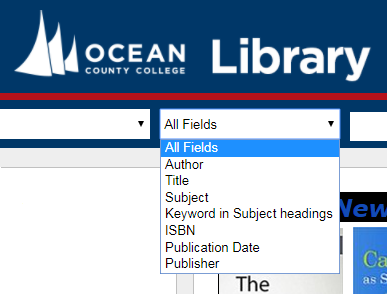 Find Articles
The Library has access to several academic journals related to Addiction Science and Counseling.
Print Journals
Current issues of print journals, like Contemporary Drug Problems or Substance Abuse, are available on the Library's main floor. Older issues may be available upon request from the main Circulation Desk. Please ask for assistance. All print journals are available for in-house use and photocopying/scanning.
EJournals
Many additional journals are available electronically through databases such as Academic Search Premier, Medline, or Science Direct. Off-campus database access is offered through your Ocean Cruiser account. Once logged in, click the "Academics" tab and then the "Library Resources" link to access the databases.
Try these suggested databases:
Academic Search Premier
CINAHL
Medline
ScienceDirect
Some notes on searching:
Each database will offer its own unique search interface and set of "help" features to focus your search results.  In general, the databases will allow for a greater level of specificity than the Library's catalog. For example, a search for "oxycodone abuse" in the database Academic Search Premier, leads to many relevant articles.
Use a database's 'help' features to your advantage. Academic Search Premier, for example, allows easy subject "narrowing" by providing subject term suggestions. CINAHL allows a high degree of specificity using standardized medical terminology.
Guide to using CINAHL's standardized subject headings (PDF):
Combining search terms with "Boolean operators" (the words 'and,' 'or,' 'not') can help narrow results.
And – "oxycodone and abuse" will return results where both of these terms appear, eliminating articles that don't discuss abuse.
Or – "tobacco or nicotine" will return results where either of these terms appears, providing a broader range of articles.
Not – "smoking not marijuana" will return results that do not include a term, providing more specifically-focused articles.
Please remember: The multi-disciplinary nature of Addictions Counseling means that many additional sources from the psychology and social science fields may provide useful information.
Internet Resources